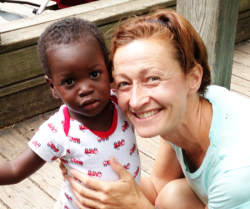 Exploring adoption as a single parent can come with a unique set of challenges. Will a birthmother here in the US like my profile?  Which countries will accept my application to adopt internationally?  While it's true that some countries prohibit single parent adoptions, many unmarried adoptive parents are surprised at how many options remain open to them. One option is Haiti, which is accepting of single parent adoptions.  CAS parent Brighid completed her adoption in May, creating a family of two with her son who arrived home just days shy of his first birthday.
________________________________________________
My adoption journey officially began in April of 2012, although the seeds were planted much, much earlier.  Having thought about adoption since high school, I knew it was only a matter of time before it happened.
After being somewhat deterred by domestic agencies because I am single, I began the pursuit to adopt internationally by calling in to a Carolina Adoption Services webinar.  Immediately, I was impressed by their professionalism, organization, and warmth and was so happy to learn that Haiti was quite open to singles!  I quickly submitted an application and then over the next 5 months was off to do my home study and collect the many needed papers for my dossier.  Allie and CAS were very helpful in preparing me for what I needed to know and do and were there to answer any questions I had.
I was very lucky in that it just so happened that CAS was headed down to Haiti for a visit right when my dossier was ready to be submitted, so it got delivered by hand!  3 days later I was matched with my son Djouby!  It all happened so quickly but I knew right away that he was the child for me.
I am incredibly grateful that I went down to Haiti a total of 4 times between October 2012 and May 2013 as I waited to bring my son home.  It gave me a much deeper awareness of Haiti and Djouby's roots and also was an essential window into what his life was like the 9 months he was in the orphanage. It also really bonded us as a family unit.  I saw the shifts in him, both obvious and subtle, as he learned to trust me more and more with each visit and realize I was coming back to build a life with him.  During those visits, I also had a chance to bond with other CAS families who have gone on to give me incredible insight, guidance and support both through the adoption process itself and since we've arrived back home.  Not to mention, I also had a chance to meet my son's birth mom on the final visit and even get a video of her leaving a message of love to Djouby.  This is something I trust both he and I will treasure forever.
Now that he is home, we are having an incredible time.  It's amazing to me to see how much he is growing and changing by the moment.  Every day, I am literally blown away by his courage, strength, fiery spirit, sense of humor, willingness to try new things and his curiosity.  He's a voracious and quick learner and is constantly exploring the world around him and picking up new words and expressions.  I look at him many times a day and am just filled with so much love knowing that he is my son and I am him mama now, forever.
Don't get me wrong.  It has been a HUGE transition to go from being a single woman living my own life and focusing on my career to spending my days at parks, blowing bubbles, going to swim lessons and eating something other than popcorn for dinner… but I wouldn't have it any other way.